It's pretty hard to be thinking about droughts when it's pissing down rain and your tanks are all full. However, there is no better time to think about how you can set yourself up for the next drought (yes, the next as it's bound to come). Australia as a whole can have half of the continent in an average or above season and a half going through a torrential drought.
This is probably the best-case scenario as farmers can buy the livestock or grains off another farmer to take the burden off them as we've seen from Western Australia selling a large percentage of their sheep flock to the Eastern seaboard.
What can actually be done to secure feed for livestock?
Have a $$ contingency plan: By now, depending on your age you've proably seen at least one drought and know that they are expensive you retain your primary breeders. Plan ahead for this and limit the use of an overdraft or loans if possible.
Burying feed like the image below: Buyring your feed can store your feed for years before it is needed. with the right seal and coverage on the hay, grain or silage you will be able to easily ration it out once needed.
Fencing off your paddocks into smaller lots to ensure feed utilisation: This can be done in good seasons where you have the capital to do so and it really goes to help keep paddocks locked up and stock free so that there is fresh grass ready to go.
Increase on-farm grain storage to buy in high supply moments to reduce $$/tonne: There are a lot of farmers who never had much grain storage who are now buying up silo's to ensure they can buy in when the price is low.
How to Store Feed Underground and The Maths Behind It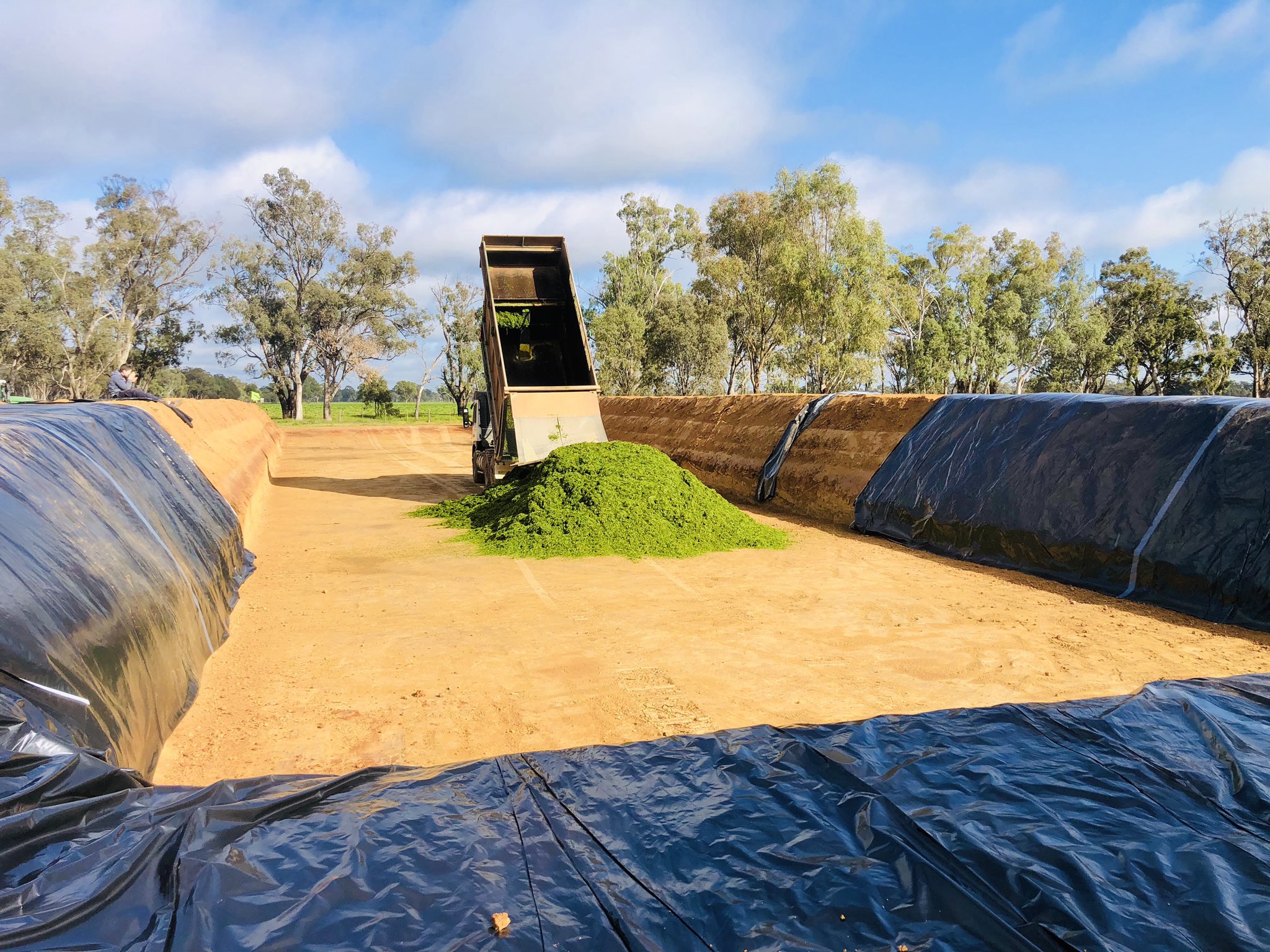 The picture on the left will see 600DM tonne going after seeing the success of previously storing feed for the drought. It was only in there for 5 years but it has definitely saved their operation $7,000 a week on feed during a drought
From their calculations from the 600 tonnes of feed, it will be able to keep 5,000 head of sheep fed for 40 weeks. They will have buried it under 80cm of the earth for the next drought.
Calculating the maths of drought
Amount of livestock: 5,000 sheep
Amount of feed on hand: 600 tonne
Timeframe: 40 weeks
120/40 = 3 kilograms of feed per day.
Wastage: Assume that we waste 10% of your feed, 60 tonnes will not be edible leaving you with 540 tonnes.
What To Do Now?
Start your planning for the days without rain. No time is like the present to get your planning into action. Please take this as a guide and not advice for how you should run your farm. The Farms Advice Podcast wants to make sure you have all the tools you need to make you feel motivated to push the boundaries for your farm. Find out more podcasts for your agribusiness
I hope this can spur you on to start planning, even if it's a wet year where you are. Make sure you keep listening to the Farms Advice Podcast to get your weekly dose of agribusiness. See you next Tuesday for another episode.